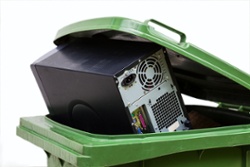 Sometimes you just need something done quickly - and that includes ITAD. Closing a location? Updating an entire office worth of technology? We can help.
As an experienced, streamlined, and certified vendor Lifespan can provide impeccable service and responsiveness.

  National reach - Our nation-wide network of facilities allows us to perform a pick up in your area.


  Low cost - With our comprehensive logistics management services, we do it at the right price.


  Security - We maintain a completely secure facility, and your data is always safely destroyed.


  Responsible - We are R2 certified and are fully committed to environmentally safe processing.
After providing us more information by filling out the form to the left, a member of Lifespan's ITAD team will contact you shortly to schedule your pick up.